Worldcoin suspended in Kenya as thousands queue for free money
The Kenyan government has ordered cryptocurrency project Worldcoin to stop signing up new users, citing data privacy concerns.
Worldcoin, founded by US tech entrepreneur Sam Altman, offers free crypto tokens to people who agree to have their eyeballs scanned.
Thousands of Kenyans have been queuing up at registration centres this week to get the currency worth about $49 (£39).
Kenya warned citizens to be cautious giving their data to private companies.
how the biometric data was stored
offering money in exchange for data
having so much data in the hands of a private company
The ministry of the interior has launched an investigation into Worldcoin and called on security services and data protection agencies to establish its authenticity and legality.
In one of the pop-up registration centres in the capital, Nairobi, where hundreds had been lining up for the registration, many had been locked out of the process on Wednesday after the large crowd was termed a "security risk".
"I've been coming here almost three days to line up and register. I want to register because I'm jobless and I'm broke, that's why I'm here," Webster Musa told the BBC.
"I came here yesterday. I waited until my phone died. So I came again today but I've missed the registration again. I really like Worldcoin because of the money. I'm not worried about the data being taken. As long as the money comes," added Dickson Muli.
Worldcoin says it cannot say how many people have had their eyeballs scanned in Kenya.
It claims to be creating a new global "identity and financial network".
"We are creating the world's largest identity and financial network as a public utility, giving ownership to everyone. And establishing universal access to the global economy regardless of country or background," a statement on the Worldcoin website reads.
Mr Altman, who founded Open AI which built chat bot ChatGPT, says he hopes the initiative will help confirm if someone is a human or a robot. He also says this could lead to everyone being paid a universal basic income but it is not clear how.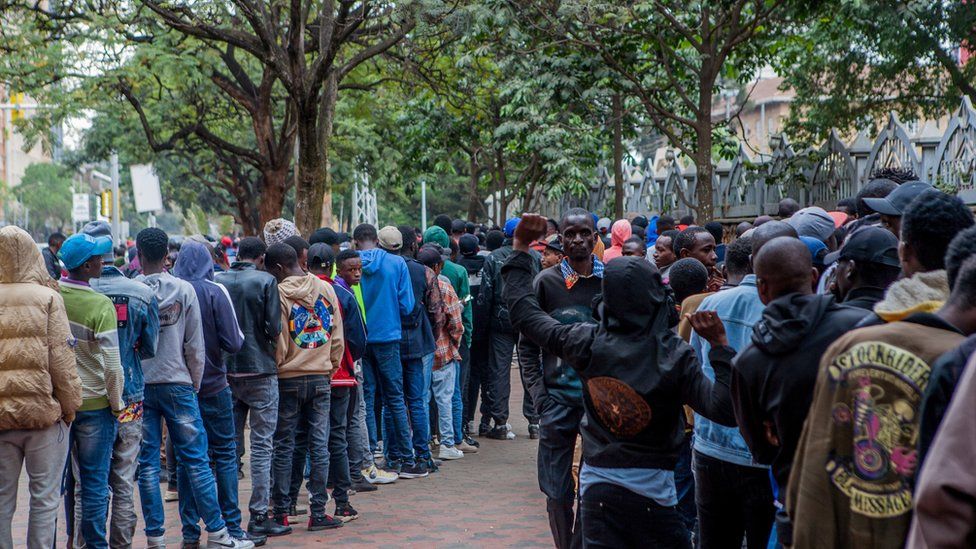 The company insists that no data is stored. However privacy experts worry that sensitive data gathered from scanning a person's iris might get into the wrong hands.
The Kenyan Capital Markets Authority (CMA) stated it was concerned about the ongoing registration and notified Kenyans that Worldcoin was not regulated in Kenya.
Under Kenyan law, individuals have a right to not have any personal information unnecessarily required or unnecessarily revealed.
Digital rights lawyer Mercy Mutemi told the BBC there were other, less intrusive ways to gain the information that Worldcoin is after.
"If the goal is to prove people are human, they can just show up. You don't need to go for the most invasive manner to prove people are human," she said.
Worldcoin told BBC that it chose Kenya as the first African country to launch the platform because of the already booming tech space, and the more than four million Kenyans who are already trading in crypto.
It has also launched in various countries including Indonesia, France Japan, Germany, Spain and the UK. Data watchdogs in some countries have already said they are examining Worldcoin.
Source:BBC